[su_box title="Keep in mind…" style"="default"]
Health insurance companies do not automatically approve the purchase of a motorized scooter
Your physician will use certain conditions to determine if you qualify for a scooter
Mobility scooters can range anywhere in price from $500 to over $5,000
[/su_box]
Your health insurance plan might pay for a scooter under certain circumstances. Health insurance companies will not automatically approve the purchase of a mobility scooter.
They will require that your physician submit medical justification to them and even then sometimes a health insurance claim for a mobility scooter can be denied.
Mobility scooters (or durable medical devices) are currently used by over 100,000 Americans each day, and the number continues to grow.
If your ability to move has become compromised in some way and you feel that a mobility scooter is right for you, the first thing you need to do is speak with your physician.
Enter you zip code above and compare affordable health insurance quotes in your area!
What conditions determine if my health insurance will cover a scooter?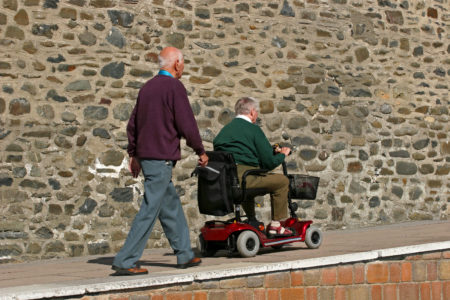 Your physician will use certain conditions to determine if you qualify for a scooter. Most physicians use the criteria established by Medicare and Medicare B. Included in these conditions, as outlined on the Medicare website, are your:
Overall strength

 – To operate a scooter you must be able to sit upright and have the strength in your hands to operate the controls

Upper body strength

 – If you have sufficient upper body strength Medicare may require you be prescribed a manual wheel chair rather than an electric mobility scooter

Ability to balance

– If you cannot maintain your balance, you may not qualify for a mobility scooter
If you meet the criteria and your physician determines that a mobility scooter is applicable to you a prescription for the device can then be written and the certificate of medical necessity will be issued.
How much will my health insurance company pay for my scooter?
First, you must be sure that your private health insurance carrier has a valid national provider identification number (NPI) and is enrolled in the Medicare Provider Enrollment Chain and Ownership System (PECOS).
In many cases, however, when dealing with a private insurance carrier, restrictions on the type of equipment covered may apply. Private health insurance may also require a Certificate of Medical Necessity before consideration is applied.
How much does a mobility scooter cost?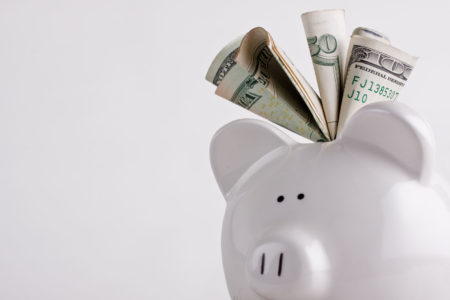 Mobility scooters can range anywhere in price from $500 to over $5,000 depending on the model, size and accessories selected. In many cases, private health insurance may pay for the basic scooter and require the policyholder to cover any accessories such as baskets, lifts or ramps.
Some policies do not cover transportable scooters used primarily for travel and will instead restrict payment to those used for daily mobility.
Most private health care insurance plans will cover required mobility devices 100 percent (if the patient is eligible for Medicare), which pays up to 80 percent and the balance may be covered by private insurance.
Retailers of mobility devices are familiar with both private and public health insurance and will be able to assist you in the application for payment.
What if my health insurance company will not cover my scooter?
If you are not covered by private health care insurance, an option is to apply through Medicare. Medicare B will generally cover 80 percent of the total cost of the device. It does require:
A physician's prescription
A certificate of medical necessity
That the mobility scooter is used for daily living in your home and not as a recreational vehicle
Medicare also requires that your physician specializes in areas such as:
Rheumatology
Gerontology
Rehabilitation
Medicare Requirements for a Mobility Scooter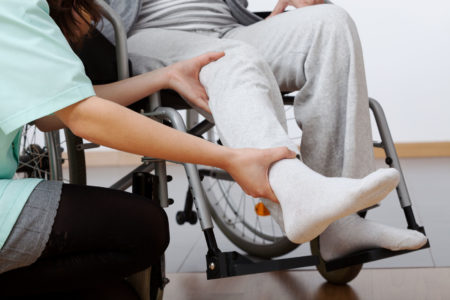 The Medicare website lists the following requirements for scooter coverage. Please note that the government is well known for leaving information out on public documents or not updating to current requirements in a timely fashion.
If you have any questions about Medicare requirements for a mobility scooter its probably best to call Medicare directly:
Any evaluation must be from a licensed MD or similar qualified health provider
You must have a documented evaluation which clearly says that a mobility aid is needed for a medical condition — this form is called a Certificate of Medical Necessity.
Any prescription or order for an electric scooter must be presented to a Medicare-approved supplier before any bill can be submitted to Medicare
You must be able to get on and off the scooter and able to operate the scooter safely
The evaluation must confirm you have good vision
Your health condition must cause mobility challenges for you at home
In an effort to reduce costs, in 2010 Medicare evaluated suppliers of what they term durable medical devices: wheelchairs, scooters, and walkers.
From this evaluation, they have designated select outlets for these devices.
If you are going to access your scooter though Medicare or Medicare B, you must be sure that the outlet you choose is Medicare approved.
There are also restrictions on the type of devices that are covered.
It is common for retailers of durable medical devices to be familiar with the regulations for both private and Medicare insurance coverage. The approved retail outlet you select should be able to provide you with all forms required for remuneration.
Many retailers have insurance specialists on staff that can help you with this process. They are also familiar with which scooters are approved for payment under Medicare and Medicare B.
After you have selected your scooter and the applicable forms have been completed, your physician will submit the forms to Medicare.
This submission does not mean that you will be able to acquire your scooter immediately. Payment from Medicare or a private health care insurer must be received before the device can be released to you.
Use our FREE tool and get the health insurance coverage you deserve!
[su_spoiler title="References:" icon="caret-square" style="fancy" open="yes"]
[/su_spoiler]