[su_box title="Keep in mind…" style="default"]
Extreme sports have become very popular among Americans
Health insurance polices may or may not cover skydiving injuries
Supplemental insurance can cover gaps in health insurance policies
[/su_box]
The normal scope of health insurance is to cover expenses arising from an unforeseen illness or accident, so you probably will be covered but sometimes health insurance companies can get very gray in this area.
Health insurance coverage typically doesn't consider how physical injuries were incurred since it's generally assumed that the purpose of getting health care coverage is to protect us against all sorts of things, regardless of what we're doing.
Enter your zip code above and start comparing health insurance today?
Why would my health insurance cover skydiving?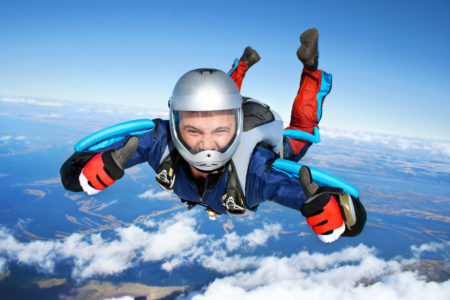 The normal scope of health insurance is to cover expenses arising from an unforeseen illness or accident, so you probably will be covered but sometimes health insurance companies can get very gray in this area.
If you plan to skydive, you need to read your health insurance policy documents carefully, look for any exclusions, and call your insurance company before you jump!
Are there different levels of coverage?
More often than not, the basic levels of these types of policies don't cover extreme sports and other risky activities without adding a special rider. When you add that rider, your rates obviously will go up. How much they go up depends on:
How often you skydive
Your experience level
Where you jump
The types of equipment that you use
If your health insurance coverage does not protect you for skydiving accidents, it will be directly or indirectly noted as an exclusion in your policy documents.
Skydiving might not be mentioned specifically by name, but you might see exclusions for extreme sports, action sports, or something along those lines.
However, that's not ironclad so be sure to read your policy documents. If you do see such exclusions, they may include other extreme sports such as:
Bungee jumping
Hang gliding
Mountain climbing
What if I have coverage gaps?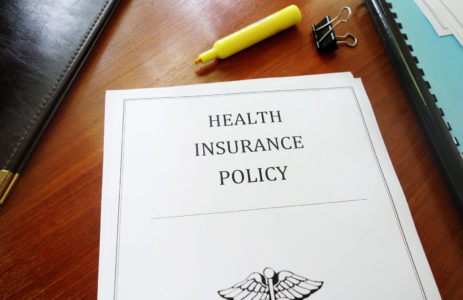 If you are one of those where individuals whose health insurance does not protect against injuries from skydiving accidents, you can purchase supplemental insurance coverage to fill in the gaps. You can purchase such coverage on a short-term basis, if you're not a regular skydiver or as a permanent policy if you skydive frequently.
Again, check with your current health insurance provider to see if they offer such coverage. If not, the outfit you go skydiving with may even be able to point you to a company who can provide coverage.
If you don't have health insurance at all, you should consider purchasing it before you go skydiving. Not that skydiving is inherently unsafe, in reality; it's practiced by thousands of people every day without so much as a bump or bruise.
However, that doesn't change the fact that when accidents do happen they tend to result in very serious injuries, if the victim survives the fall. Those injuries could literally cost you everything if you have no health insurance.
One last option is to purchase umbrella insurance along with your homeowners and/or auto policy. An umbrella policy more or less covers just about anything not covered by your standard policies.
That means if you had typical health insurance that covered skydiving accident, but had annual limits that were exceeded by your medical care; your umbrella coverage would kick in and pay the balance. Umbrella insurance is a great idea for skydivers and other extreme sports enthusiasts.
How about life insurance and AD&D coverage?
It is very common for accidental death and dismemberment policies to cover skydiving accidents. Nevertheless, you should still read your policy documents and be sure before you get on the next plane.
Life insurance, on the other hand, is quite a different. Life insurance policies typically don't cover such risky behavior unless you specifically request coverage. Obviously, adding skydiving or other similar risky activities to your life insurance policy is going to drive the price up.
You'll see a greater difference in the premiums when you have term life insurance rather than whole or universal. That's due primarily to the fact that premiums for term policies are lower than the other types. That makes your skydiving a greater risk to your life insurance company.
On the other hand, the premiums for whole and universal policies tend to be higher and are used as part of an investment vehicle owned by the policyholder.
That reduces the likelihood of loss for your insurance company, thereby making them more willing to cover things like skydiving.
What about the operator indemnification form I signed?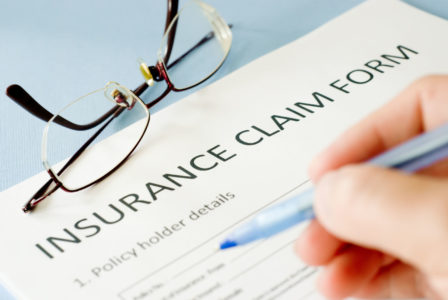 You should always make the effort to protect yourself against financial loss in case you're ever involved in a skydiving accident. If you're of the mindset that you don't need protection because the operator of the company you jump with carries insurance, you are mistaken.
In all likelihood, you will be asked to sign a release form in which you agree to indemnify the skydiving company against any claims you or your estate might file in the future.
When you sign that form, you are not necessarily giving up your right to sue, but you are putting yourself in a position where it would make it tough for you to win a court case.
Unless there was negligence on the part of the company or its employees, the court would probably render a decision against you because you voluntarily chose to participate in risky behavior and you signed the indemnification form. In other words, don't count on the skydiving company's insurance policy.
Use our FREE tool and start comparing health insurance quotes in your area today!
[su_spoiler title="References:" icon="caret-square" style="fancy" open="yes"]
http://www.dropzone.com/fatalities/
[/su_spoiler]